I don't know about you, but when Halloween season creeps around I invariably always want to go as something completely unscary. I'm not sure what it is but the usual witch's & ghouls option just doesn't appeal to me now I'm past the age of ten, and I'm definitely not one of those girls that goes down the slutty 'dressed in underwear but it's okay because it's halloween' road. In fact Mean Girls summed it up perfectly:
So, back to the chic options. Flapper is always a great style to do, especially as H&M are doing some perfect feather headbands:
Whilst I was looking at stills from the up and coming episode of Gossip Girl it turns out that Blair & Chuck have nailed the his 'n' hers Halloween look:
For something a little bit more glamourous but somber, look to Chanel Iman and Arlenis chanelling Billie Holiday in Harpers Bazaar September issue: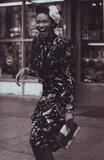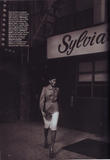 Source: Scanned by flyme2themoon
all other images from thefashionspot.